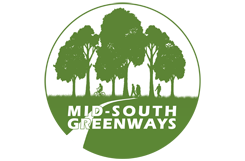 MRCT is pleased to offer our website visitors the
Mid-South Existing Greenways Map—our Region's first web-based interactive map of existing greenways, parks and open space facilities. This map is produced by the Mid-South Greenways Steering Committee, of which MRCT is a member, with data provided by municipalities and parks and greenways organizations throughout the region. Map development and maintenance is generously supported by the Hyde Family Foundations with technical assistance provided by The University of Memphis Center for Partnerships in GIS.
The Committee is dedicated to improving the scope and connectivity of green infrastructure in the Mid South and works to promote more extensive and integrated use of existing projects by the public.
We are constantly improving the coverage and quality of our data, so any corrections are welcome. Likewise, our chief goal is to increase the interconnectivity of our trails, and your suggestions for future trail connections are essential to future development.  Please send your comments to Tara Wohlgemuth, Coordinator for the Mid-South Greenways Steering Committee at midsouthgreenways@gmail.com.